Are you feeding your body toxic cosmetic ingredients by feeding them to your skin each day?
Whether you lather on a sudsy face wash or moisturize with a night cream before bed — the ingredients in your cosmetics matter more than most people realize.
And it's important to first know this: cosmetics and personal care products are amongst the most un-regulated products in the U.S.
Back in 1938, the FDA mandated that the cosmetic industry should regulate itself.
Yes, there are a handful of conscientious cosmetics out there who truly put the customer's safety first.
However, it has largely turned into an industry whose cosmetics are riddled with toxic chemicals and deliberately perplexing ingredient lists.
So, how can you protect yourself from toxic cosmetic ingredients?
Even if you are savvy on ingredient terms, misguided labeling leads to confusion and frustration for health-conscious buyers.
Furthermore, many chemical ingredients mix with one another to create other chemicals — including known endocrine-disruptors and carcinogens — that companies may not even be aware of and are not required to list on labels.
As such, your best bet is to:
Choose only cosmetics and personal care products that have been independently confirmed to be free of toxins and organic. The highest independent certification that ensures this purity

here in the U.S. is the USDA Certified Organic label. (Other countries have equivalent certifications, such as ECOCERT in France.)

The best way to make the switch to USDA Certified Organic products (if you can't do it with all products right away) is to start with those cosmetics you directly feed your skin every day, such as anti-aging creams, moisturizers, hand sanitizers, and deodorants (versus periodic use products.)
With that said, it still pays to be an educated consumer.
Now, to try to publish a list of ALL the potentially toxic cosmetic ingredients  would take a book or two, because literally THOUSANDS of chemicals are allowed in U.S. and so many of them may be toxic.
(NOTE: The European Union has banned over 1300 chemicals from cosmetics. In the U.S., only 11 have been banned!)
With that in mind, below are 12 of the most common toxic cosmetic ingredients to avoid.
Where possible, safer alternative ingredients to look for are also listed.
#1 Formaldehyde
In low levels, formaldehyde naturally lives in living organisms like plants and food.
However, this ingredient doesn't bridge into cosmetics safely.
That's because formaldehyde is a carcinogenic gas found in synthetics and preservatives.
You wouldn't think that a byproduct of cigarette smoke and fire would be a popular cosmetic ingredient, but that's precisely the case.
Scientists have had their radar on formaldehyde as a carcinogen since 1980 when an 18-month study revealed that inhalation led to the development of cancer cells in the nasal cavity of test rats.
Somehow, forty years later, formaldehyde is used in nail polish, shampoo, deodorant, and hair products like dyes, relaxers, and straighteners.
Concerned?
Rightfully so.
The two most common ways formaldehyde enters the body is through topical application or inhalation.
It's no surprise, then, that this cosmetic ingredient  is illegal in all of the European Union, as well as Canada, Japan, and Sweden.
Label Ingredients to Avoid
Urea
Diazolidinyl urea
Formalin
Sodium hydroxymethylglycinate
DMDM hydantoin
Quaternium-15
Bronopol
Safe Alternatives
Formaldehyde's primary function is to preserve the shelf-life of cosmetic products. Instead, look for natural preservatives, including grapefruit seed extract or tea tree oil.
#2 Parabens
You've likely seen "paraben-free" on several cosmetic labels while perusing products at the store.
Why?
Because certain forms of parabens can be one of the most toxic cosmetic ingredients out there.
Acting as a preservative, parabens kill bacteria in cosmetic products, but multiple global studies indicate that certain parabens may be carcinogenic and lead to fertility issues and congenital disabilities.
The EWG's (Environmental Working Group) scores for parabens such as propylparaben and isopropylparaben fall between 7-8, both of which indicate a toxic health hazard.
Body wash, hair care, skin care products, and sunscreen contain parabens, along with ingredients labeled as:
Methylparaben
Ethylparaben
Isobutylparabens
Alkyl parahydroxybenzoate
Butylparaben
Like formaldehyde, parabens are a preservative, so again look for substitutes including Vitamin E, tea tree oil, grapefruit seed extract.
#3 Phthalates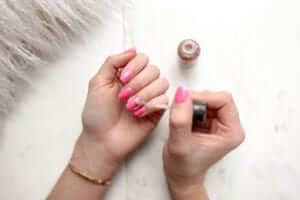 Nail polish, hair spray, lipstick, and skincare products contain plasticizers called phthalates, which make the product more flexible.
Cosmetics containing phthalates are soft and malleable, making them stick to surfaces and spread with ease.
A dangerous side effect of this toxic cosmetic ingredient is that it may cause hormonal disruptions.
Furthermore, phthalates may lead to reproductive issues and diabetes, among other illnesses.
A 2016 epidemiology study found that 31% of pregnancies exposed to phthalates resulted in pregnancy loss.
You'd think a toxic ingredient like this would be visible from a mile away.
Unfortunately, one of the most widespread and potentially dangerous ingredients in cosmetics is simply listed as "fragrance" (or "parfum" or "scent.")
"Fragrance" can contain any of thousands of different chemicals — and it often contains phthalates. However, to protect business interests, companies are not required to share what chemicals are in the ingredient they simply list as "fragrance."
(Be sure to read this article on toxins in fragrance here.)
With such blurry lines, it's not worth putting anything with "fragrance" on the label — or anything otherwise suspected to contain phthalates — on your skin and therefore in your body.
Ingredients to Avoid
Avoid ingredients called phthalate, DBP, fragrance, DEP, or DEHP. Because phthalates can slip through a labeling loophole, safe alternatives will contain an asterisk or denote that the fragrance is naturally sourced.
#4 Laureth Sulfate and Sodium Lauryl
Two well-known culprits in cosmetics are Laureth Sulfate and Sodium Lauryl, which are surfactants.
Simply put, surfactants are foamy products like face wash, shampoo, toothpaste, body wash, and even baby bath products.
Consequently, each of these surfactants drys out the skin by removing natural oils from your pores.
If you've ever tried a foamy new face wash and experienced redness and irritation, you've come face to face with either Sodium Lauryl, Laureth Sulfate, or both.
Many people love that foamy cleanse, but what if the very foam you thought was ridding your face of dirt and impurities was instead leading to long term skin damage?
And that's only the surface level toxicity.
A research article from Northeastern University in Shenyang, China, revealed that once certain surfactants enter the body, they damage healthy enzymes and can lead to raised toxicity levels.
Label Ingredients to Avoid
Sodium Laureth Sulfate
Sodium Lauryl Sulfate
Anhydrous Sodium Lauryl Sulfate
Irium
Safe Alternatives
Choose natural surfactants like castile soap, soapwort, and coco glucoside.
#5 DEA, MEA, and TEA
A trifecta of potentially toxic cosmetic ingredients to watch out for is Diethanolamine (DEA), triethanolamine (TEA), and monoethanolamine (MEA).
Each one of these foaming agents or emulsifiers (agents that prevent the separation of ingredients like oil and water) is part of a family of ammonia compounds called ethanolamines.
DEA, MEA, and TEA are common ingredients in cosmetics like makeup and hair dye.
These ingredients are banned entirely in Europe. Rightfully so, as studies reveal that ethanolamines may cause cancer, skin damage, irritation, and toxicity.
Label Ingredients to Avoid
Diethanolamine DEA
Linoleaide DEA
Lauramide DEA
Oleamide DEA
Triethanolamine TEA
Monoethanolamine MEA
Cocamide diethanolamine
DEA lauryl sulfate
Safe Alternatives
Nature provides an abundant assortment of natural emulsifiers, including plant-based lecithin, vegetable wax, and beeswax.
#6 Metalloestrogens (Heavy Metals)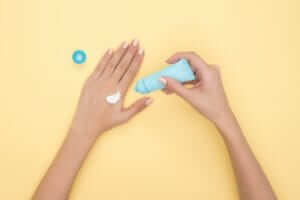 In recent years we've learned about the hazardous effects of aluminum on the brain and cognitive functioning, and that's only one heavy metal.
Other heavy metals in the metalloestrogen family are arsenic, mercury, chromium, iron, and lead.
In cosmetics, heavy metals block sweat and lighten skin.
Inside the body, they can do far more damage by building up toxins that can't work their way out.
The potential result?
Elevated risk for cancer, autoimmune disease, and reproductive problems.
What makes heavy metals so terrifying is that they amply adorn the cosmetic counters in products like lip gloss, eye shadow, nail polish, moisturizers, concealers, and sunscreen.
These ingredients are largely illegal in Europe, Canada, and Japan.
How does the U.S. regulate heavy metals in cosmetics? By limiting their use in cosmetic products, rather than eliminating.
Label Ingredients to Avoid
Aluminum
LB Pigment 5
Lead flake
Hydrogenated cottonseed oil
Chromium
Sodium hexametaphosphate
Pigment metal 1, A00, A 95, A 999, AA 1099, and AA 11999
#7 1,4 Dioxane
What do you call a chemical found in roughly 46% of cosmetic products, which also happens to be a known carcinogen?
1,4 dioxane, which is a processed petroleum-based ingredient.
And that's not all this toxic cosmetic ingredient does: Dioxane is toxic to the heart, blood, kidneys, immune system, nervous system, skin, and digestive system.
So, why is it in so many commercial cosmetic products like shampoos, face washes, and even baby bath liquids?
Because 1,4 dioxane if is often a byproduct chemical of other chemical ingredients, so listing this toxin on the ingredient label is not even required in those cases!
Label Ingredients to Avoid:
1,4 Dioxane
Sodium Laureth Sulfate
Xynol
Oleth
Ceteareth
PEG
Safe Alternatives
Swap products that may contain toxic 1,4 dioxane for products that are USDA Certified Organic. This certification prohibits the use of 1,4 dioxane and other toxins.
#8 MIT (Methylisothiazolinone)
Water-based cosmetics often contain MIT, which is another synthetic preservative used to elongate a product's shelf-life that companies are often substituting for parabens.
In 2010, scientists asserted that low levels of MIT were "safe in cosmetics."
Or so they thought.
Clinical 2013 data from the Cosmetic Ingredient Review revealed that a large population of people experience adverse or allergic reactions to MIT.
Furthermore, there are no studies on MIT (or so many other potential toxins, for that matter) that test for the toxicity of these chemicals after being applied to skin for years or decades.
The point is clear: follow suit of the European Union and keep products containing MIT away from your beauty routine.
#9 Dimethicone
Polymers act as thickeners, conditioners, emollients, and style agents in cosmetics.
Dimethicone is a synthetic silicone polymer that adds a lavish smoothness to skin.
Products that contain dimethicone include anti-aging skin creams, face moisturizers, makeup, lotion, acne creams, and hair products.
Unfortunately, that velvety soft silkiness can block the skin's pores and lock in harmful toxins.
Skin naturally retains moisture from the air, but polymers like dimethicone block moisture from entering the pores and, ultimately, toxins fester and can create acne.
Label Ingredients to Avoid
Methicone
Dimethiconol
Dimethicone copolyol
Cyclomethicone
#10 Petroleum-Based Ingredients: Petroleum Jelly, Mineral Oil, and Moisturizers
Shockingly, many manufacturers incorporate petro-ingredients in their skin, beauty, and cosmetic products. You might encounter them labeled as:
Petroleum jelly
Mineral oil
Paraffin wax
Toluene
Benzene
Fragrance
Petrolatum
Butanol or butyl
Unfortunately, unrefined petroleum-based lubricants can contain carcinogenic contaminants called polycyclic aromatic hydrocarbons.
At the very least, you may notice skin breakouts, acne, and irritation.
But is it worth any risk of getting cancer or damaging your reproductive system?
Certainly not. Fortunately, there's a pure alternative! Reach for the lovely natural butters such as cocoa, mango, and shea for ultra-smooth, non-toxic moisture.
#11 Triclosan
Here's a strange story:
Triclosan, a chemical that reduces bacterial contamination, was banned from antibacterial soap in 2016 by the FDA.
That's because the FDA said companies failed to prove triclosan was safe.
However, this toxic cosmetic ingredient was not banned from other cosmetics.
In fact, triclosan is widely used in many such as moisturizing creams, face wash, shaving gel, and deodorant.
And, indeed, triclosan may pose serious risks, such as wreaking havoc on hormones, escalating risk of and exacerbating asthma, eczema, and allergies, and more.
Safe Alternative
Instead of antibacterial soap, USDA Certified Organic real soaps do the job of protecting from bacteria just as well. And in situations where you can't wash your hands right away, opt for a USDA Certified Organic hand sanitizer with 70% ethyl alcohol, which is highly effective against many pathogens such as bacteria and viruses.
#12 Coal Tar
If coal tar sounds like an ingredient that shouldn't be within a thousand-mile radius of your home — you're right.
Unfortunately, that's not the case.
Coal tar is a compound made from hydrocarbons, carbon, and water.
Unlike the thick, black liquid tar you think of, coal tar actually brightens and saturates the color of lipsticks and eye-shadows.
Of course, the bright pop of color can have a toxic effect on the skin: it's extremely heavy and leads to allergic reactions and skin breakouts.
Furthermore, according to the American Cancer Society, coal tar is a known carcinogen.
Steer clear of this heavy and toxic pollutant labeled as FD&C, Chemical colors Blue 1 and Green 3, and D&C.
Safe Alternatives
Vitamin E, aloe vera, and natural oils including peppermint or tea tree. In cosmetics, consider USDA Certified Organic brands that use natural pigments from pine resin, coconut alkanes, and plant extracts that contain pure colorants.
Protect Yourself From Toxic Cosmetic Ingredients
Beauty and hygiene products are not "skin deep."
Consider what you apply to your skin as food, the same as food you put in your mouth.
And with that in mind, would you knowingly eat these chemicals?
Because the reality is, your skin does eat, and these chemicals can and do enter your bloodstream and organs throughout your body.
In fact, many of the synthetic and toxic ingredients in cosmetics are called "penetrators," and they are designed to drive other chemicals deeper and faster into your body!
And so many of the "mystery symptoms" people suffer from — such as fatigue, dizziness, stomach issues, being short of breath and more — may be attributed to these chemicals people are feeding their bodies via their skin each day.
Even worse, as you've seen, they may lead to serious diseases such as cancer, brain diseases, and more.
In conclusion, the bottom line top recommendations bear repeating here:
Choose only cosmetics and personal care products that have been independently confirmed to be free of toxins and organic. The highest independent certification that ensures this purity

here in the U.S. is the USDA Certified Organic label. (Other countries have equivalent certifications, such as ECOCERT in France.)

The best way to make the switch to USDA Certified Organic products (if you can't do it with all products right away) is to start with those cosmetics you directly feed your skin every day, such as anti-aging creams, moisturizers, hand sanitizers, and deodorants (versus periodic use products).
*****
Seeking an Independently Certified SAFE and Highly Effective Cream Guaranteed to Combat the Appearance of Wrinkles and Loose-Looking Skin Like "Crow's Feet," Laugh Lines, and "Turkey Neck"?
Find out more about Purity Wood's USDA Certified Organic Age-Defying Dream Cream right here.

The Age-Defying Dream Cream provides you over 25 of nature's most potent ingredients for your youngest-looking skin.
This includes the revolutionary maple leaf extracts that have been likened to a "plant-based Botox" for how fast and how well they lift, firm, brighten, and tighten skin's appearance.
The Age-Defying Dream Cream also provides your skin 3 of nature's top vitamin-C ingredients for supporting the collagen that gives skin that healthy "plump" and young look.